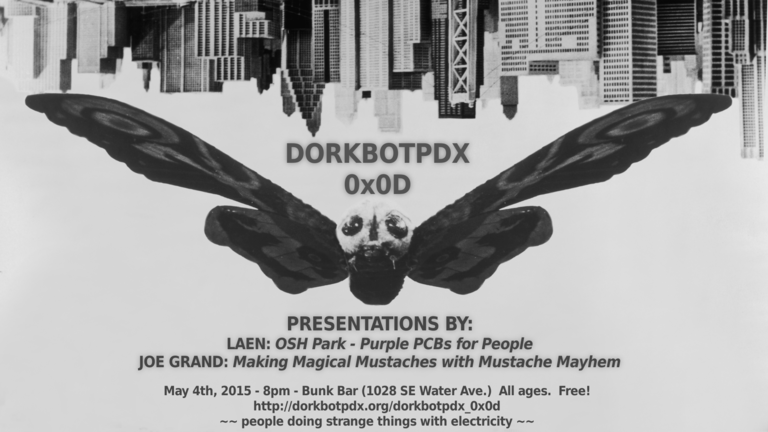 When: Monday May 4th, 2015 - 8pm
Who: All ages -- open to the public
Cost: Free!
Laen
Laen will talk about the beginnings and growth of the DorkbotPDX PCB Order, and how he turned his hobby into work.
Laen is the founder and owner of OSHPark, and doesn't like writing bios.
Making Magical Mustaches with Mustache Mayhem
(Here are the slides from the presentation)
World peace begins with mustaches. Tom Selleck, Burt Reynolds, Salvador Dali, Frank Zappa, Freddy Mercury, and Hulk Hogan have all harnessed the power of the mustache. It's time the rest of the world joined their ranks.
Mustache Mayhem is a hardware hack, a video game, and an interactive art piece rolled into one. Based on the short-lived Nintendo Virtual Boy video game console and retro-fitted with a BeagleBone Black Linux computer, the project provides a singular, entertaining goal: Overlay virtual mustaches onto real-world faces for points.
In this presentation, Joe details the trials and tribulations behind creating his most ridiculous oeuvre yet.
Joe Grand (@joegrand), also known as Kingpin, is a computer engineer, hardware hacker, product designer, teacher, advisor, runner, daddy, honorary doctor, TV host, member of L0pht Heavy Industries, and the proprietor of Grand Idea Studio (grandideastudio.com).
OpenDork
Your short (5-minute) ligtning talks about an interest or project you've been working on!